Digiday, Glossy and Modern Retail Named Neal Awards Finalists
February 20, 2020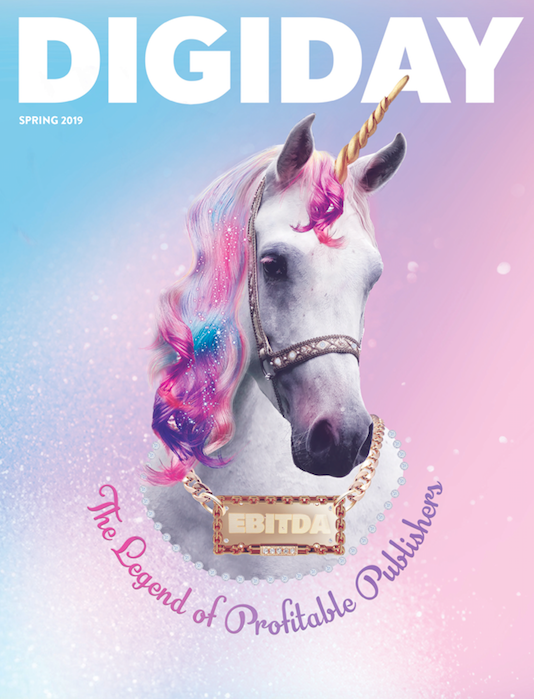 Digiday, Glossy and Modern Retail were all named finalists for the 2020 Jesse H. Neal Awards, which honor editorial excellence in the field of specialized journalism.
Digiday Magazine's unicorn cover was included as a finalist for the Best Art Direction for a Cover category. We chose a unicorn for our cover to make the point that profitable, sustainably grown media companies may seem like they're the stuff of legend. One of the core tenets of Digiday is around honesty. There are a lot of things that are held to be true in media and marketing that aren't. The intent of the cover was to suggest that our readers should be skeptical about not only the concept of the profitable publisher, but about many other media and marketing storylines as well.
The Digiday Podcast is also in the running for the Best Podcast Category. Each week on the Digiday Podcast, we're joined by a different executive for an honest, in-depth discussion on how they're approaching the challenges brought on by the changes in media and marketing and where they're having success. Our audience is able to hear exactly how successful subscription publishers like The Athletic, The New York Times and The Information are tackling the challenges associated with building out those lines of business. To date, the Digiday Podcast has been downloaded over a million times.
Glossy has also been named a finalist for Best Media Brand. Launched in 2016, Glossy covers how fashion and beauty are approaching digital with sophistication, depth and honesty — and a bit of fun. Over 30,000 readers receive a Glossy newsletter that covers daily news and vertical-specific deep dives. We also host over 8 events a year that bring together over 3,000 attendees. Features like the Glossy challenge board facilitate conversations among attendees and mainstage sessions with leaders like Rebecca Minkoff provide valuable insights.
To top it off, Modern Retail is a finalist for Best Website. Modern Retail covers the ins and outs of retail's reinvention and is on the frontlines of the industry's ongoing transformation, from Amazon's increasing influence to the combined force of the direct-to-consumer upstarts. Modern Retail was built with an emphasis on clean, minimalist and modern design and experience. Users visiting the homepage are met with signature story art above the fold. Below that, you'll find a quick rundown of our top stories adjacent to the "other news to know" section — offering context for the day's stories, including facts, figures and headlines. All this allows homepage visitors to get a quick snapshot of what they need to know that day.